A "Same Day Courier" That Lives by "Same Day"
Our Same Day Courier Service makes sure that the items you need to be delivered can be delivered properly no matter what. Do you have forms that need to get somewhere within the next 24 hours and emailing them is not an option? Have you got some deliveries that need to be made tonight but don't know where to turn? This is a common problem in Southern California. With some of the worst traffic anywhere on Earth, it can feel like it's practically impossible to get your deliveries made on time.  However, that's exactly the kind of scenario that our same day courier was made for. So, call us at (424)382-8404 to see what we can do for you.
"Same Day Delivery Service" means "Same Day"
At Ways Messenger Service, we believe that "same day" delivery is a definitive statement. It does not leave any "wiggle room," nor is it open to interpretation. We believe that if you request a same day delivery service, it should be made, well, that same day. Talking to our clients, we've found that some other courier services do not agree with this. They have different interpretations of "same day," which include such exceptions as "pretty much the same day," "the same day more or less," or even "around the same day." We don't do that. When you request a same day delivery, it's done on the "same day".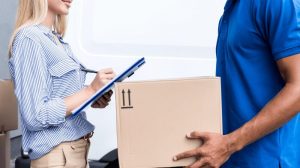 Courier Delivery Service in Los Angeles And All Over Southern California
Ways Messenger Service also doesn't  believe that a same day delivery should be limited to certain locations. At Ways Messenger, we do all kinds of deliveries to the greater Los Angeles area and beyond. A detailed list of the locations that we deliver to is at the bottom of our home page. When you request a "same day" delivery, we don't take city names off of that list. If you see a city on that list, our same day delivery applies. It really is that simple. So, give us a call at (424)382-8404 to see what our Messenger Service can do for you.
For some deliveries, "same day" is helpful, but only partially so. If you have medical specimens that have to be delivered, for example, getting them in the right condition is just as important. Being there in the "same day" is useless if they don't arrive in the proper state. That's why our Medical Couriers do everything to ensure that your deliveries are transported in the right condition, too.  So, call us now at (424)382-8404 for Same Day Courier and for a free quote.
Our "same day" delivery option isn't going to be right for every customer. There are those who may just need "regular delivery," which is often in the two to four hour range (so it's not exactly slow.) If you have multiple deliveries that have to be made over a period of time, Ways Messenger can set up a routine system so that your deliveries are done for a price that fits in your budget. If you have something that needs to be delivered, we have a way of making that possible. To set it up, give us a call at (424) 382-8404. To get a free quote.
Ways Messenger is proudly serving in the Greater Los Angeles and Southern California.